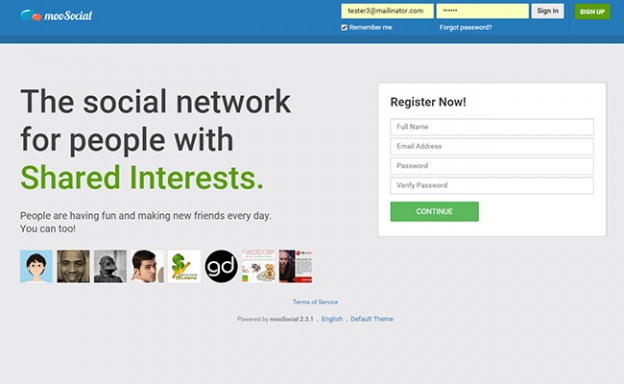 mooSocial 2.3.1 is now available. This is a maintenance release for version 2.3.0 and we encourage you to update your social network sites immediately.
In this release, we've also included a new widget called "Closed network signup" to help site owners create a friendlier landing page for their closed/private social networks. We've also added a sign-in form onto the site's header to make sign-in more convenience.
mooSocial 2.3.1 contains fixes bugs from 2.3.0, including:
Birthday display incorrectly caused by timezone offset between user's and server.
Invited users cannot see Join Group button.
Mention and Tag functions are stopped working when loading Ajax in Profile and Group detail page.
Third party plugin upgrade error.
JS error when special characters (',") are used in tcp files.
Add </form> tag to signup page.
Change Get Friend list from 100 to 500 for User Mention Auto Suggest.
Mention and emoji stopped working in comment edit in photo theater.
mooEmoji error when creating/editing Photo Album.
Change title of info popup window of plugin.
Change text and link of signup agreement to "terms of service"
User posting issue in What's New when site is still loading on mobile devices.
Fix sign-in error after user sign-up with subscription.
Upgrade Note:
Your site's version must be at least 2.2.1 before be able to upgrade to 2.3.1. Please upgrade to 2.2.1 first if you are using a version prior to 2.2.1
DO NOT upgrade your live site until you have a fully restorable backup of your site's files, database and have successfully performed a test upgrade on your development (test) site first.
"Closed network signup" widget display correctly only on Landing Page with one column layout.